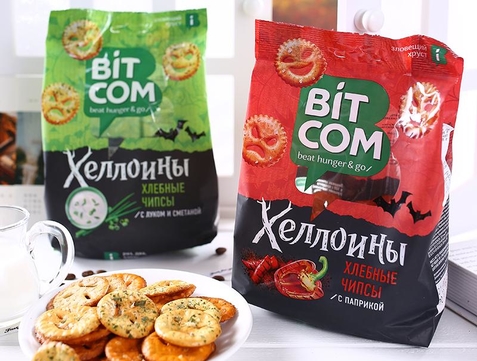 HALLOWS. TERRIBLY DELICIOUS NEW!
Halloweens crave to be eaten! Appetizing on the outside and fragile on the inside, Halloweens crumble loudly and tastefully in your mouth! Can be tasty and healthy at the same time? Yes! Halloweens are cooked without frying in oil, and this is +100 to the benefit!
HALLOINA bread chips combine all the benefits of a healthy snack and the attractive tastes of classic chips:
Snacks from the oven
No frying in oil
Loved by both children and adults
Quick hearty snack
Safe composition
Perforated packaging for easy opening
Unusual product with original shape, color or taste
Both lovers of the classics and  daring experimenters will appreciate it
There are two popular flavors in the line of bread chips:
Chips with sour cream and onion and chips with paprika in packs of 70g and 150g.
More about Halloween at our catalog